December 2013 Newsletter
SalixArts Willow News: Bargain Christmas decorations workshop this week and new workshop dates for 2014
Hello all,
Just a short message today to let you know that due to a cancellation this morning, I now have a place available on the Christmas Decorations workshop this Wednesday (4th December) for £40 instead of £70 – the quickest way to let me know that you're interested is to phone or text on 07736952730. There are also a couple of places still available at full price should you really fancy coming and are not lucky enough to get the discounted place, or if you want to bring a friend too! To whet your appetite, here is a whole tableful of beautiful decorations and gifts made (by Val) on Saturday's workshop.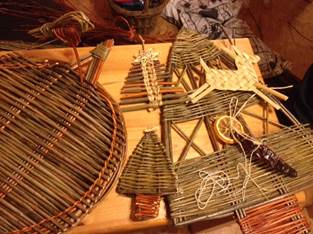 I have now organised the
workshop dates for the first half of 2014
and these are listed below. As you will see, the living chair workshops this year will not be at Ashdon Village Hall, and as my studio is on the small side for this kind of thing, I can only manage groups of 2 or 3 at a time. Please get in touch if you would like to make one of these amazing chairs, and I will endeavour to arrange mutually convenient times for all those interested.
Only those workshops up until the end of March have a full descriptive listing on the website, so if you do have any queries about any of the others, then feel free to ring or email me for any extra information you might need.
A reminder too, that I do sell gift vouchers, if you are looking for a special present for someone this Christmas.
Warmest wishes to you all,
Debbie
Wednesday 4th December - Christmas decorations - Three spaces remaining
Dates of your choice from mid-January - early April - Living willow chairs
Monday 20th January - Getting to grips with borders / small lanterns
Saturday 25th and Sunday 26th January - 2 day basket workshop
Saturday 8th February - Frame baskets
Saturday 15th March - Willow harvesting day for living dome workshop
Sunday 16th March - Living willow domes and Obelisks
Saturday 29th March - Trays, platters and display baskets ***(special Mothers' Day offer)***
Wednesday 23rd April - Willow in the garden - Plant supports, planters and low border fencing
Saturday 26th April - Willow in the garden - Plant supports, planters and low border fencing
Saturday 3rd May - Garden sculpture
Saturday 17th May - Weaving the woods - a weaving workshop with a spiritual slant (for women)
Wednesday 11th June - Getting to grips with borders / small lanterns
Saturday and Sunday 12th and 13th July - Open studios
Saturday and Sunday 19th and 20th July - Open studios
Thursday 24th July - Garden sculpture workshop at Stapleford Granary - please book at -www.staplefordgranary.org.uk