Willow Workshops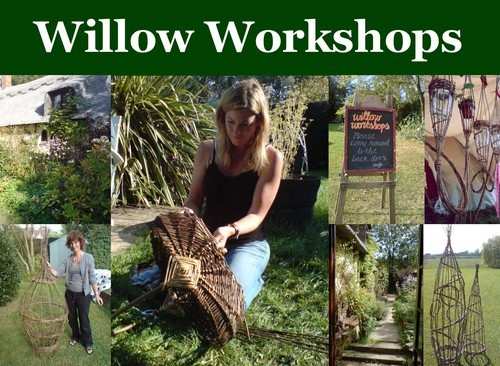 Learn traditional willow weaving skills, in a relaxed atmosphere amongst lovely surroundings
You can learn how to make your own beautiful baskets, plant supports, lanterns, sculpture and more from English willow, the majority of which is grown

locally.

We have an ongoing programme of day workshops covering many aspects of willow weaving and basketmaking,
suitable for beginners and improvers, run from our lovely 16th Century home in Shudy Camps. A delicious vegetarian lunch is included in the price of £95 (per day). Materials are charged extra on the day, based on quantities of willow used. G
ift vouchers are available.
(And talking of lunch....... we have had many requests for recipes and the most popular, namely the creamy baked cheesecake and carrot and fennel bread, can now be downloaded from the

recipe

section!)
All courses are limited to 4 places ensuring plenty of individual attention.
The vast majority of the willow used is grown (and hand-harvested) locally. It's organic, grown without pesticides or fertiliser, so no nasty chemicals on your hands!
From May 2018 £3 of every workshop fee will go to support the wonderful work of Treesisters.
COVID INFORMATION - no workshops listed but ... YES, I AM STILL TEACHING!
Post Covid, the courses are now limited to only two participants allowing for plenty of space, and plenty of individual attention.
Workshop prices have had to go up a little reflecting the reduced numbers, but are still very affordable and a bargain for something so close to one-to-one teaching.
Under current circumstances we have also decided not to provide lunch, so please bring a packed lunch with you.
These very small groups work particularly well if participants already know each other - an ideal opportunity to spend some quality time with a close friend or loved one.
Bearing all this in mind, I have decided not to advertise workshops on specific dates, but instead to invite you to contact me to arrange a mutually convenient time. You can do this via my
website feedback form
, by phone on 07736952730 or via email
[email protected]
uk
If you don't have a friend or loved one that would like to accompany you on a course, please do get in touch. We can find a date that suits us, and then advertise it to a wider audience.
Remember too that we can arrange bespoke workshops on a day to suit you. If you and a friend want to do something together we are now offering day workshops here for two at £260 (£130 each), for three at £315 (£105 each) and four at £360 (£95 each). This includes lunch, but materials will be charged for on the day, based on the quantities of willow used. Also, if you would like us to advertise your workshop on the website, we might get other bookings, thereby reducing your costs. One-to-one tuition is also available here at Blacksmith's Cottage (£35 hour plus materials) or at a venue to suit you (£45 hour plus materials and travel.)
We are also able to run workshops at a venue to suit you - please contact us for more information (prices start at £275 a day).

"I meant to write earlier to thank you for such a fantastic day in September making baskets. It was fantastic. Teaching was perfect, allowing time for assimilation, allowing people to make mistakes without ever feeling that it was a problem, creating an atmosphere that allowed people to chat/ feel welcome/ ask questions. The lunch was completely delicious. And it gives you a huge appreciation for willow and wood and hand made items.
thank you"
Tamsin Brown, workshop participant